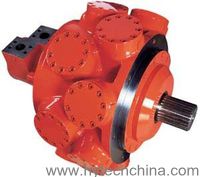 Products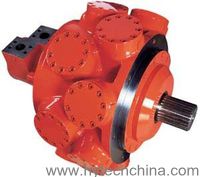 The Staffa HMB and HMHDB hydraulic motor range of high torque, low speed fixed displacement radial piston hydraulic motors consists of 23 displacements sizes ranging from the HMB080 to HMB700 series. Capacity ranges from 988 to 12599cc/rev. (60.3 to 768 in3/rev)
Features:
-- Replacement of original Kawasaki Staffa hydraulic motor of same series.
-- Rugged, reliable, proven design.
-- Unique Hydrostatic balancing provides minimum wear and extended life.
-- High volumetric and mechanical efficiency.
-- Large variety of Shaft and Porting options.
-- Output torque up to 27483 Nm.
-- Wide range of mounting interfaces available.
-- Highly accurate electronic positional and velocity control systems also available.

Standard HMB model specifications:
Model

Displacement

Rated pressure

Max. pressure

Rated torque

Unit torque

Max. speed

Rated power

in3/rev

cc/rev

bar

MPa

bar

MPa

lbf-ft

N.m

Nm/MPa

r/min

hp

Kw

HMB080

85

1385

230

23

290

29

3437

4660

203

260

134

100

HMB100

100

1630

230

23

290

29

4044

5484

238

240

134

105

HMB125

124

2027

230

23

290

29

5030

6820

297

220

127

95

HMB150

149

2432

230

23

290

29

6034

8182

356

220

161

115

HMB200

188

3080

230

23

290

29

7642

10362

451

175

161

120

HMB270

263

4313

230

23

290

9

10701

14511

631

120

174

130

HMB325

324

5310

230

23

290

29

13175

17865

777

100

174

130

HMB400

415

6807

230

23

290

29

16522

22404

974

120

235

175

HMB700

707

11590

200

20

230

23

24466

33170

1658

80

308

230
More Products